The Pool Bath had an entrance from the house, as well as an entrance from the pool. The criteria: Create something interesting, unique, and beautiful that allows a great visual from either entry. Hence the design:
Custom Pool Bath Floor Design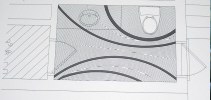 Nancy designed the Pool Bath floor to have an inviting, visually stimulating flow. She incorporated this design into CAD to illustrate the floor plan for the precise desired design for the tile installer. The concept was completed by selecting Sicis, a 5/8" x 5/8" Italian glass mosaic tile, along with larger glass tiles to accentual the patterned arcs in the floor design.
Precisely installed, tile by tile, following the custom design and details. The floor is complete with 2 colors of grout to further enhance the design. The completed bath incorporates a wall mounted vanity to allow the floor to flow under the entire cabinet, concrete countertop, with vessel sink and wall mounted faucets.